Area Around the Yamanaka Onsen District
Just outside of the central Yamanaka Onsen area lies the area known as Oku-Yamanaka, a tourist zone that offers diverse outdoor activities. Many visitors come here to hike, camp, and see the cherry blossoms in the spring, the flowers and trees in the summer, and the colorful foliage of the autumn. It is also a great place to go for a drive with friends and family.
Places to See in Oku-Yamanaka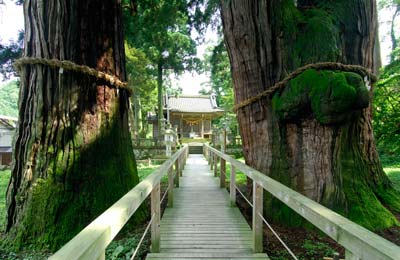 The Great Cedar of Kayano
This imposing tree stands upstream of the Kakusenkei Gorge in the vicinity of the Sugawara Shrine. Believed to be over 2,300 years old, this great cedar has a circumference of 11 meters and a height of 52 meters. It has also been designated a Special Natural Monument by the Agency for Cultural Affairs of Japan. The tea shop standing in front of the shrine is famous for its Cha Dango.